Links
Other websites that you may find interesting!
The links below lead to organisations and services that Waterside Chiropractic believe to be useful and relevant.
Chiropractic Websites
General Chiropractic Council (GCC)
The General Chiropractic Council is the statutory governmental body responsible for the regulation of chiropractic in the United Kingdom. It was established by the Chiropractors Act 1994, to protect the public by regulating chiropractors, set standards for professional education, practice and conduct and to ensure the development of the chiropractic profession.  The General Chiropractic Council provides a searchable database of registered chiropractors.
McTimoney Chiropractic Association (MCA)
Professional body providing information on Chiropractic in general and the McTimoney technique specifically.  The McTimoney Chiropractic Association also provides a searchable database of both human and animal McTimoney Chiropractors.
The Royal College of Chiropractors (RCC)
The College is an academic membership organisation with over 1500 UK members, 2800 members worldwide, with the objectives of promoting the art, science and practice of chiropractic, improving and maintaining standards in the practice of chiropractic for the benefit of the public and promoting awareness and understanding of chiropractic amongst medical practitioners and other healthcare professionals and the public.  The Royal College of Chiropractors also aims to educate and train practitioners in the art, science and practice of chiropractic and and advance the study of and research into chiropractic.
McTimoney College of Chiropractic (MCC)
The McTimoney College of Chiropractic is the only institution offering mixed mode learning courses in chiropractic.  It emphasises training in the McTimoney method of chiropractic, a gentle, skilful and effective holistic treatment developed by founder John McTimoney who began teaching his methods in 1972.  Chiropractors offering the McTimoney Chiropractic technique will have trained here.
Animal Related Websites
Mark Elliott & Associates – Veterinary Surgeons, Madam Green Business Centre, High Street, Oving, Chichester PO20 2DD
A small, personal and approachable veterinary practice offering a truly integrated healthcare service for animals.  The practice takes the best from conventional veterinary medicine and surgery and combines it with homeopathy, acupuncture, herbs and neutraceuticals where indicated.  A forward-thinking practice which works with experts in other fields such as nutrition and chiropractic, incorporating other specialisms and skills into the veterinary format for the benefit of patients.
Honey's Real Dog Food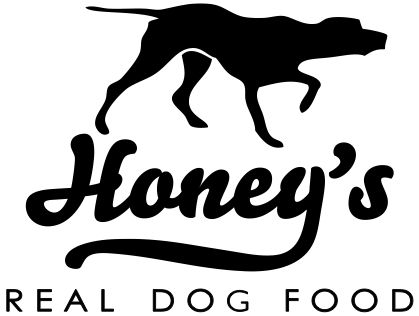 Honey's Real Dog Food is a small, ethical, family-run dog food company that believes that dogs should eat the same sort of diet that they would enjoy if they lived in the wild.  This is not a romantic notion, dogs should eat the type of diet that nature intended  for them – that is raw, fresh meat, bones and vegetables.   Waterside Chiropractic shares this ethos with Honeys Real Dog Food.  As well as being a biologically appropriate diet, all of the meat used in Honeys real dog food is free range or wild and comes from British, ethical farmers.  Waterside Chiropractic's resident canines, Merlot and Sol, would not eat anything else!  Should you wish to try some Honey's, contact Waterside Chiropractic for a free sample.
Salthorse Stud Farm
Salthorse Stud Farm is a small, friendly, privately owned livery yard situated in Woodmancote, near Emsworth in West Sussex.  It caters for all types of leisure and competition riders and prides itself on the care, welfare and general contentment of its horses and a high level of customer satisfaction.  Offering full livery, full exercise livery, schooling livery and part livery services in stables with rubber matting and all year round daily turnout in small sociable groups.  Facilities include a floodlit manege with mirrors, lunging pen, outdoor grass show jump arena, grass dressage arena, cross country fences on site around the farm. In addition to CCTV, there is a secure tack room with own lockable storage box and 2 saddle and 2 bridle racks per person.  With lots of access to both private and public on/off road hacking, Kate Welch (Yard Owner) also lives on site and is BHS qualified, able to provide lessons, schooling and exercise as well as expert advice and support to its patrons. Waterside Chiropractic resident equine 'Irish' lives here in this tranquil and beautiful setting.  Further details about Salthorse Stud Farm can be found on the following page.
Supreme Equine Services
Waterloo Farm Livery Stables is nestled in West Ashling, Chichester and was home to Waterside Chiropractic's previous resident equine, Amorio IV.  Loose boxes are set within a large converted barn giving a well ventilated environment, as well as allowing the horses to see each other.  The stables maintain a friendly, relaxed and calm atmosphere for all.  DIY, part and full livery arrangements are available depending on your requirements.  Facilities include a feed store, secure tack room, turn out paddocks, outdoor and indoor school. The indoor school is built at the end of the barn which provides easy and secure access to exercising your horse all year round.  Access to the South Downs means opportunities for good local hacking.  The owners of Supreme Equine Services (Christine Gay BHS II, SM & T and Rachael Wilson BHS AI) are experienced riders and trainers and are able to provide riding lessons and instruction, as well as being on hand to provide all year round expert advice and suggestions on all equine-related aspects.
www.supremeequineservices.co.uk
Other Great Websites
Applecarte
A great website design, graphic design, printing, distribution and wall art company owned by husband and wife team, Alan and Dana Fisher – they designed this fab website and taught me how to use it….say no more!  They have a real passion and enthusiasm for touring on pushbikes, doing cross-country (and across several countries!) treks in all weathers and terrains – now that is to be admired (…nutters)!  They have also recently dragged me kicking and screaming into the 21st Century by getting me on to the various social media sites that everyone else has been using for many years -  Linked In, Facebook, Twitter and Google +   Do like the Waterside Chiropractic Facebook page/follow us on Twitter etc by clicking on the links above!  If you want to find out more about Applecarte (and their crazy cycling expeditions!), click on the link below.
ProfileDesign
Peter Hamilton from ProfileDesign is a great guy – he designed Waterside Chiropractic's unique logo and stationery!  ProfileDesign do lots of other great stuff too!